Phone & fax
Phone:

0121 458 2619

Fax:

0121 459 9640
Address
33 Keynell Covert, Kings Norton, Birmingham, B30 3QT
Directions
We are located off Moneyhull Hall Road, around 100metres down Keynell Covert, past Broadmeadow Health Centre
Opening hours To make an appointment, call 0121 458 2619 or book online
Surgery opening hours
| | AM | PM |
| --- | --- | --- |
| Monday | 08:30-12:30 | 16:00-19:00 |
| Tuesday | 08:30-12:30 | 16:00-18:30 |
| Wednesday | 08:30-12:30 | 16:00-18:00 |
| Thursday | 08:30-12:30 | 16:00-18:00 |
| Friday | 08:30-12:30 | 16:00-18:30 |
| Saturday | Closed | Closed |
| Sunday | Closed | Closed |
When we offer consultations
| | AM | PM |
| --- | --- | --- |
| Monday | 09:00-11:30 | 16:00-19:00 |
| Tuesday | 09:00-11:30 | 16:00-18:00 |
| Wednesday | 09:00-11:30 | Closed |
| Thursday | 09:00-11:30 | Closed |
| Friday | 09:00-11:30 | 16:00-18:00 |
| Saturday | Closed | Closed |
| Sunday | Closed | Closed |
Along with our usual opening hours, we offer our patients extended access appointments at evenings and weekends. These are available at our local SDS MyHealthcare Hubs. To book an extended access appointment, please speak to one of our receptionists.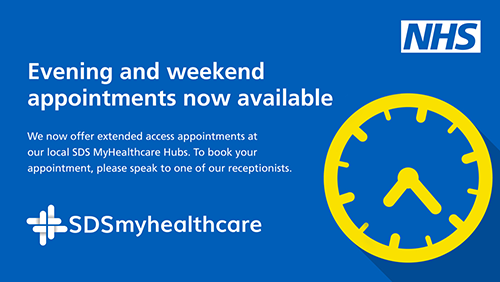 ---
Get help out of hours
There are a variety of options for health advice, and to see a Doctor out of hours. Please click here for details.